Since shortly after its launch, I have only used
Google Plus
for 2 purposes,
Google Hangouts
and Google Photos. These two apps, although quite impressive on their own, only worked within the Google Plus social network which has tried to compete with the likes of Facebook and Twitter but has
failed
. While Hangouts, an awesome video conferencing app which likely will be the subject of a future post, still requires Google Plus, in June,
Google Photos
was rebranded with its own standalone app.
The Google Photos app has quickly become my go-to photo app. This
review
by Walt Mossberg explains many of the reasons why. Besides its unparalleled photo search which Google obviously excels in, as a teacher, the most significant features are its integration with Google Drive, support across many device platforms, and its special photo effects like automatically created animations and stories.
Photo Search
Google Photo search is uncanny in its "intelligence". When searching, Google recognizes people, places, and types of photos, but most significantly, it recognizes things. If I type into search "beach", it brings up all beach shots. If I type in graduation, it recognizes photos from recent graduations for my children. It recognizes weddings, dance, amusement parks, and the list goes on and on. It has made some very public and embarrassing
mistakes
for sure but it is mostly accurate and as is often the case, continually improving. It's indispensable for everyone and a reason right now to install Google Photos on your
android
or
iPhone
right now and back up all of your photos and automatically back up all photos in the future.
See the example of a search for amusement park from Google Photos below. Note, none of these photos were named or tagged in any identifiable fashion. Google Photos just recognized through its artificial intelligence that they were taken at an amusement park.
Google Photos and Google Drive
But for teachers, the most significant advance is that Google Photos now automatically syncs with Google Drive. When opening Google Drive, you will see a new Google Photos folder. You no longer need to manually upload photos to Drive or connect your phone with your computer. Just take any photo or video, connect your phone to wifi, wait a few minutes, and your photos are in Drive ready to share. From Drive, these photos either individually or as entire folders can be shared using Gmail or a Learning Management System like
Haiku
which integrates with your Google Drive. See a screenshot of the Google Photos Drive folder below.
Google Photos Creations
The Google Photos feature that is the most fun is its
Creations
(the old Auto Awesome feature from Google + Photos). Creations automatically stitches photos together to create a photo collage, a moving Gif animation, or a Photo Story of an event. Here is how it works. Just take photos on your phone. Google Photos does the rest. That's it. If you want to create an animation, make sure to take many photos of the same or a similar scene. Google Photos will do the animating for you. See an example below from the same trip to 6 Flags referenced above.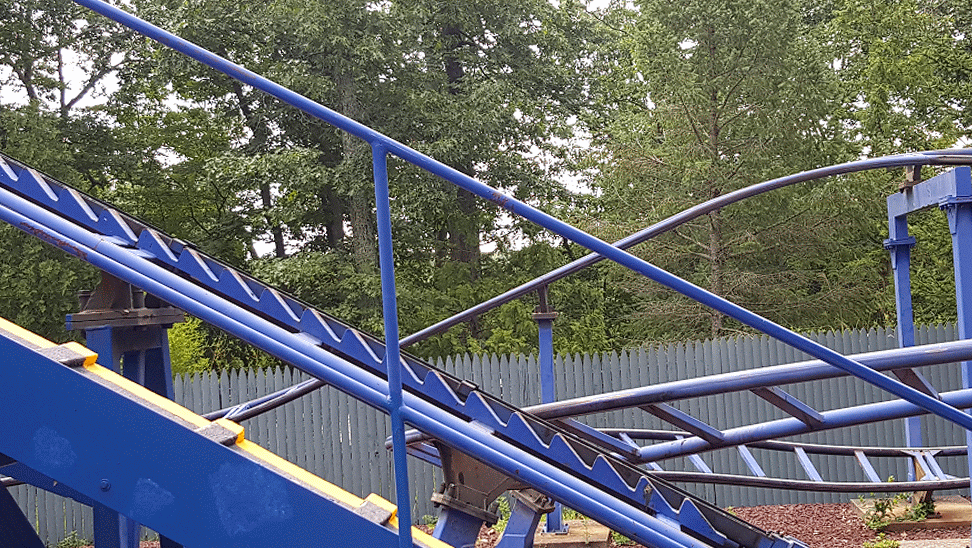 Applications for the Classroom
Google Photos can be indispensable for teachers as it solves the modern problem of how to easily share all those photos taken on personal devices.
Students now have an easy way to document all of their artwork into an online portfolio. Just take pictures using their iPhone, iPad, or android device. Then after the photos upload to Google Drive, move them to a folder designated for their student portfolio. They can then tag photos in this folder (or depend on Photos awesome search capabilities) and share the folder with their teacher, prospective colleges, and on all of their online platforms.
Teachers can use Google Photos to flip the learning without ever having to upload to Youtube. Just take a video of the lesson since videos are also uploaded to photos. Then once the video automatically arrives in Google Drive, share the link with students the way you normally would. This creates a secure way to share videos which requires no extra work on the teacher's part. Just shoot, wait, and share.
Schools can use the Stories, animated GIFs, and other Creations, to share compelling images with parents. One can even plan for these, for example by having students take a class picture with many different poses. This picture will be spliced together as a moving GIF which parents will want to watch again and again.
Google Photos is the most powerful and versatile advancement to photo taking since the advent of the smartphone. I cannot wait to introduce it to my teachers and students for the coming school year.